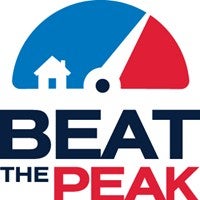 About 150 members are already taking part in Beat the Peak, a free and voluntary effort to help control energy costs for all cooperative members. You may remember the introduction article in March and if you were encouraged to sign up at annual meeting in April. If not, you can still get involved. 'We're approaching peak cooling season, so together, our participating Beat the Peak members can make a real difference,' says Adrel Langley, Manager of Community Relations at Santee Electric Cooperative.

Through Beat the Peak, co-op members receive alerts asking them to reduce their energy use during critical periods when wholesale electricity prices spike, known in the utility industry as 'peak demand.' In the summertime, when air-conditioning use rises, that's in the afternoon.
On the website EnergySmartSC.org, members can sign up to receive Beat the Peak alerts by text message, email or phone call.
During a Beat the Peak period, which typically lasts a few hours, participating members will be encouraged to reduce use of power-intensive activities. These are a few of the actions members can take during cooling season:
Adjust thermostats higher by 3 degrees during summer afternoons and evenings
Delay activities that require hot water, such as washing clothes, taking showers, or washing dishes
Postpone using heavy appliances, like clothes dryers and ovens.
'We are not asking our members to totally stop using certain appliances,' Langley notes. 'We want to get them to shift their use to different hours of the day to help hold down everyone's costs.'
How to cool costs as temperatures rise
Even if you don't sign up for Beat the Peak, you can still help hold down your co-op's wholesale power costs by reducing electricity use during the summer peak demand-generally, from 3 to 7 p.m.
To Beat the Peak:
Raise thermostat 3 degrees
Wash clothes in cold water
Delay clothes drying
Postpone hot showers
Delay use of dishwasher
Skip the oven, cooktop; grill outside
Turn off unused