Electricity is a powerful force in all our lives. It makes so many things possible and is always present in our homes, at work and at play, that we often take it for granted. But, because it is so powerful, it's important that we always exercise caution when using it.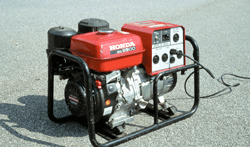 Follow these simple guidelines and assure yourself a safe experience with your power generator:
Be careful that all necessary electrical grounding procedures are followed during each and every use. Improper grounding can be fatal.
Do not operate the generator near flammable substances that could result in a possible explosion.
Several parts of the generator may become extremely hot during and for some time after operation. Keep combustible materials well away from the generator.
Always operate the generator in a well ventilated area. Never operate a generator indoors.
Inspect all wiring and/or extension cords from the generator to the connected devices. Damaged or worn out cords can lead to a possible fire or electrical shock. Replace any damaged or worn cords immediately.
Do not operate a generator in rain or damp areas or with wet hands. This could lead to the operator suffering a severe electrical shock.
NEVER connect a generator directly to your home wiring system, unless you are using an approved electrical transfer / disconnect switch. This type of switch should only be installed by a licensed electrician.
When using extension cords outdoors, use only extension cords marked "For Outdoor Use."
Santee Electric Cooperative offers financing for the purchase of emergency backup generators! Power-On-Call provides for purchases up to $1,500 with no interest, up to 12 months with approved credit.

Follow these guidelines to have a safe holiday season.
Carefully inspect all electrical decorations before use. Cracked or frayed sockets, damaged or worn wiring and loose connections may lead to a property fire hazard, serious bodily injury or even death.
DO NOT staple or nail through light strings or electrical / extension cords. You could damage the wire or insulation, which could lead to an electrical shock or fire.
Carefully inspect all extension cords. If using extension cords outdoors, use only extension cords marked "For Outdoor Use." DO NOT overload extension cords or allow them to run through water or snow on the ground.
Before using any electrical decorations outdoors, make sure the product is approved by a nationally recognized certification organization and marked "For Outdoor Use."
You should always turn off all electrical light strings and decorations before leaving home or going to bed.
Follow the use and care instructions that accompany your electrical decorations.
If you have an artificial tree that utilizes fiber optics for lighting, be sure the power supply is not covered or obstructed in any way. These power supplies have a built-in fan for cooling and the air flow should not be obstructed in any way.
Whether artificial or freshly cut, a tree should be kept a safe distance away from all sources of heat.
Have a happy and safe holiday season!

Electricity has become an essential part of our every day lives. Take a moment to think about all the things that electricity provides and how different our lives would be without electricity. While electricity is a great invention, it has the potential to cause great harm. The following are some things that you can do to be safe around electricity.
Circuit Breakers or Fuses:
Electricity enters the home through a control panel and a main switch where one can shut off all the power in an emergency. Control panels use either fuses or circuit breakers to protect the wiring. Circuit Breakers and fuses should be the correct size, current rating for their circuit. If a fuse is blown, be sure to check why the fuse or circuit blew. Possible causes are frayed wires, overloaded outlets or defective appliances. You should always replace a blown fuse with the same size fuse. Under no circumstances should you oversize the fuse to keep the circuit on. This can overload the wiring and possibly lead to a fire hazard.
Outlets and Extension Cords:
Make sure all electrical outlets are three-hole, grounded outlets. Check for outlets that have loose-fitting plugs, which can overheat and lead to fire. Replace any missing or broken wall plates. Make sure there are safety covers on all unused outlets that are accessible to children. If an outlet is located near a source of water, it should be a GFCI (Ground Fault Circuit Interrupter) outlet. When a GFCI senses current leakage in an electrical circuit, it assumes a ground fault has occurred. It then interrupts power fast enough to help prevent serious injury from electrical shock. All outdoor outlets should be GFCIs. NEVER FORCE A PLUG INTO AN OUTLET IF IT DOESN'T FIT.
Minimize extension cord use. They are not intended as permanent household wiring. Use the proper electrical cord for the job, and put safety plugs in unused outlets. Be sure to inspect extension cords periodically. Check all cords for frayed wires or cracks in the insulation. Make sure cords are placed out of traffic areas where they may present a tripping hazard. Do not place cords under carpets or rugs or rest any furniture on them.
Electrical Appliances:
All appliances need to be treated with respect and care. Check appliances periodically to spot worn or cracked insulation, loose terminals, corroded wires and any other components that might not work correctly. If you find a problem with an appliance, either replace the appliance or have it repaired by a qualified repairman.
If any appliance or device trips a circuit breaker, blows a fuse or gives off a tingling shock, turn it off, unplug it and have a qualified person correct the problem. Shocks can be fatal.
Portable Electrical Heating Equipment:
Portable electrical heaters are meant to supply supplemental heat. Keep space heaters at least three (3) feet away from any combustible materials and make sure they cannot be tipped over. Don't use them in bathrooms because of the risk of contact with water and electrocution.
Water and Electricity Do Not Mix:
People are good conductors of electricity. In areas where water is present, use outlets with "ground fault circuit interrupters" or GFCIs. Do not use electrical appliances in damp areas or while standing on damp floors. Never touch an electric cord or appliance with wet hands. Don't leave plugged in appliances where they might fall in contact with water. If a plugged-in appliance falls into water, NEVER reach in to pull it out - even if it's turned off. First turn off the power source at the panel box and then unplug the appliance. If you have an appliance that has gotten wet, don't use it until a qualified repairman has checked it.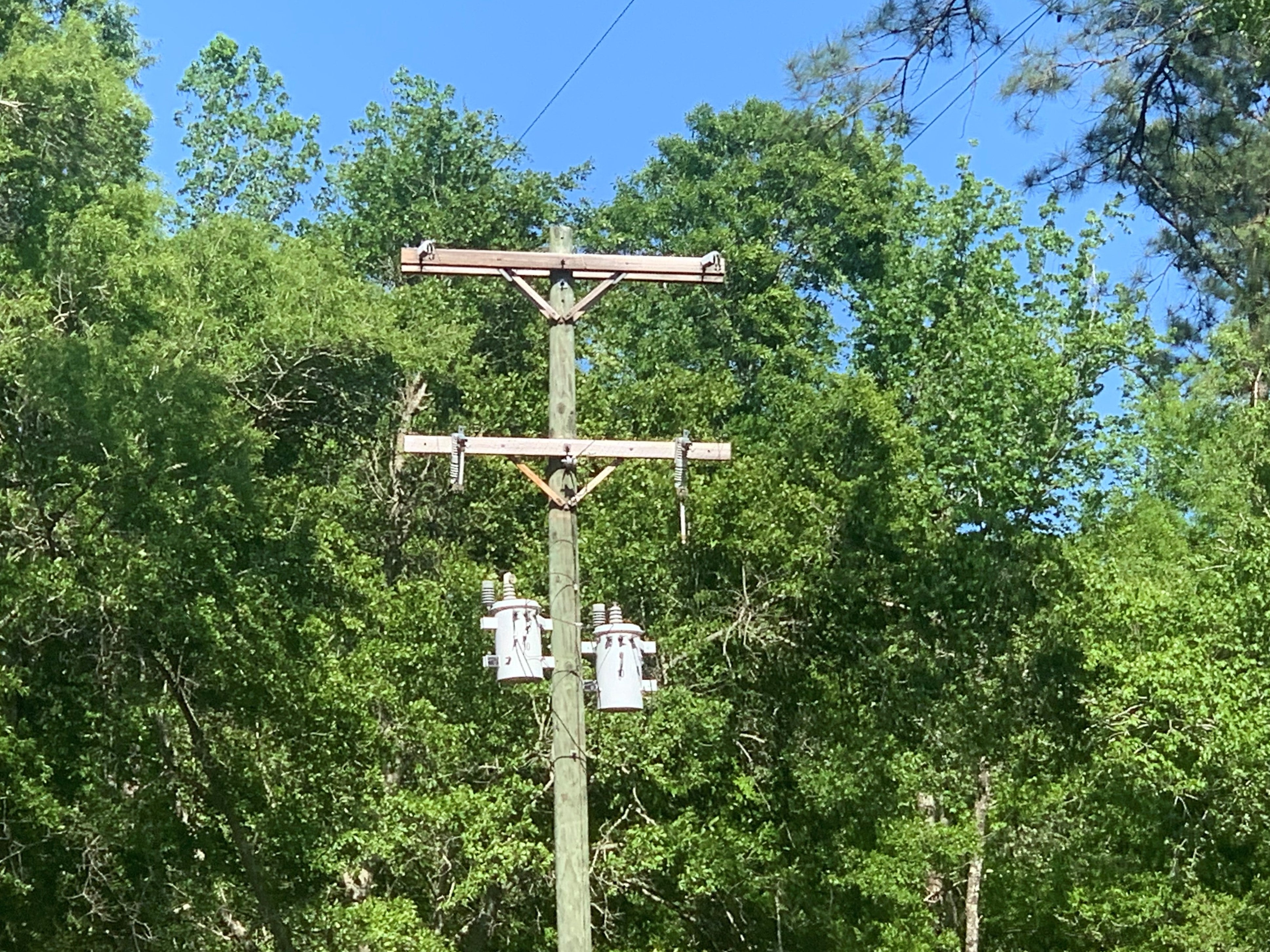 Overhead and Underground Power Lines
There are several electrical hazards outside the home. You should not only be aware of overhead power lines but also underground power lines.
People have been electrocuted when an object they are moving has come in contact with the overhead power lines. Keep ladders, antennas, kites and poles away from power lines leading to the house and other buildings.
You should never put a swimming pool or other structure under the power line leading to your house.
Whenever doing projects around the house that require digging, such as installing a fence or simply landscaping, be sure you know where any underground power lines may be located.
If you have an animal trapped in a tree or on the roof near electric lines, phone your utility company. Do not take a chance of electrocuting yourself.
Downed power lines are extremely dangerous. If you see a downed power line, call the electric company, and warn others away. If a power line hits your car while you are in it, stay inside the car until help arrives. If the car catches fire, DO NOT PANIC, slowly and carefully open the door, while still in the car look out and make sure there are no power lines that you may contact, remember to also look up, DO NOT STEP OUT OF THE CAR, place both feet on the edge of the door jamb and jump clear without touching metal and the ground at the same time.
Outdoor Appliances
Be aware of weather conditions when installing and working with electrical appliances outdoors. Never use electrical power tools or appliances in the rain or when standing in water or on damp ground. If you are using an extension cord outdoors be sure it is marked "For Outdoor Use" and rated for the power needs of your tools. When using electric trimmers, edgers, etc. be careful not to damage or cut the extension cord. Always use outlets that are protected by a ground fault circuit interrupter (GFCI).