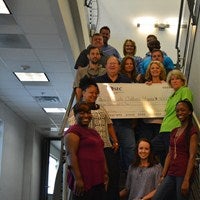 During a storm or other outage situations, it is often said that Santee Electric Cooperative has the greatest employees. This sentiment holds true during non-critical times as well.
For more than 10 years, employees have been donating a dollar or more a week to charity. Inside employees are allowed to wear blue jeans on Friday for giving but employees from every department participate, even if they wear a uniform every day.
Each year, the employees decide what charity to support. In 2016, employees collected $3,000 for St. Jude Children's Hospital.
Photo/ADREL S. LANGLEY
A group of Santee Electric Cooperative employees gathered at the Kingstree office to show off their jeans and the money raised for St. Jude Children's Hospital.